Windows Automation Software
Automate Repetitive Tasks on your Windows Computer to Save Time, Efforts and Money with Windows Automation Software offered here. This is a really easy to learn and understand Windows Automation Software. No Programming or Script Knowledge is required to Automate Repetitive Tasks with this Windows Automation Software.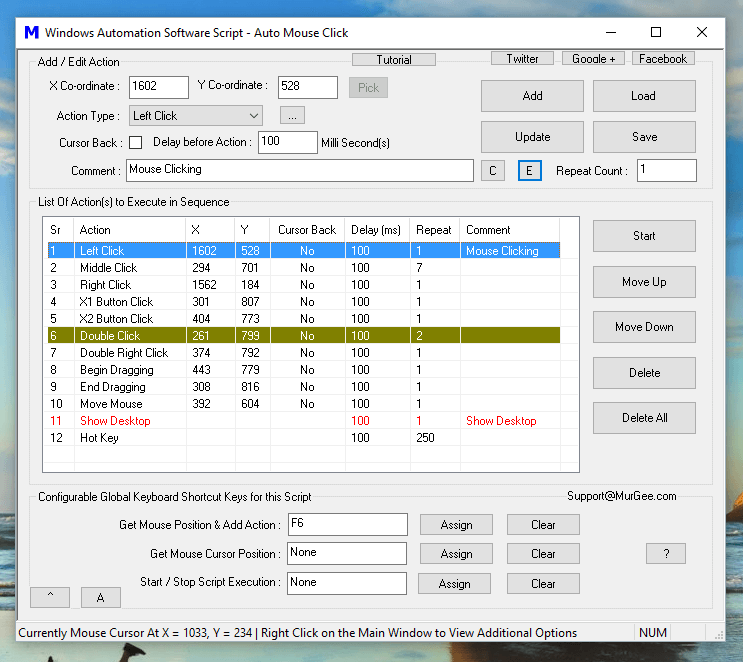 Download Software to Automate Repetitive Tasks
Download Free Trial of this Windows Automation Software and enjoy all the features. There are no functionality limitations or popup reminders to buy the software in the Free Trial. Yes this Software works on Windows 10, Windows 8.1, Windows 7, Windows 2000 and other Microsoft Operating Systems running on 32 bit or 64 bit Architecture.
Automate Mouse Clicking, Key Pressing and Much More
Most of the Windows Applications do provide a Graphical User Interface with which we all interact with the Software Application. This Windows Automation Software allows you to Automate lots more than simple Mouse Clicking, Key Pressing, etc. Given below are few of the basic Windows Tasks that can be Automated and Combined to create a Macro Script which can group and Automate a Big Task by Automating simple Windows Tasks.
Automate Mouse Actions
Almost all types of Mouse Activities can be Automated by this Automation Software. By Automating Mouse Actions, you can Automate almost anything. Given below are few of the Mouse Actions that can be Automated by this Automation Tool.
Left Mouse Click
Middle Mouse Click
Right Mouse Click
4th Mouse Button Click
5th Mouse Button Click
Double Left Click
Double Right Click
Move Mouse Cursor
Mouse Dragging
Scroll Up or Scroll Down.
Automate Keyboard Actions
You can automate single or multiple Keystrokes with Keyboard Automation Tasks. Automating Keystrokes allow you to Automate Graphical User Interface without worrying about Location of any Graphical User Interface Element like Text Box, Check Box, Drop-down or anything else.
Commonly used Keys like Ctrl + C, Ctrl + V, Ctrl +X, Shift + F10, etc
Keystrokes like Enter, Tab, Arrow Keys, Esc Key, etc
Any Single or Combination Keystroke(s) with Hot Key Action.
Combination of Keystrokes like Ctrl + Shift + Enter, Tab Tab and then Enter, etc with
Type a Fixed Line of Text or Type by reading Text from a Text File.
The Send Keystroke Action can be used to Send any pre-determined Keystroke to specific Application Window directly.
Automate Window Actions
Windows presents Graphical User Interface by grouping smaller GUI Elements in larger GUI Elements called as Windows. The Window Automation Actions allow you to control Windows so that you can control which Window Receives Automated Input.
Move Window Action to move any Specified Window to a pre-determined Position on Screen.
Show Window Action to Show pre-determined Window on Screen.
Close Window Action to Close pre-determined Window by Automating pressing of Close Button on the Window.
Wait for Window Action to make the Macro Script to Wait for specified Window to appear on Screen.
Automate launching of Applications or Documents
You can launch External Application, Open Existing Documents or Launch Browser with specified URL with Application Launching Actions. Yes you can even Automate Launching of Existing Macro Scripts created with this Windows Automation Software.
Use Launch App Action to Start any Application, Open existing Document or launch Browser with specific URL.
The Launch And Wait Action works just like Launch App Action, however it waits for the Launched Application, Document or Browser Window to be closed before executing next Action in the Macro Script.
You can use any of the above Actions to Execute Macro Script File created with this Windows Automation Software.
Other Windows Automation Actions
By combining any of the above Actions, you can create a macro Script to be executed as and when required to Automate any Repetitive Task. There are other supportive Actions supported by this Windows Automation Software which can assist you for Audible and Visual Alerts, Embed a Macro Recording (containing Mouse and Keystrokes created with Macro Recorder), etc.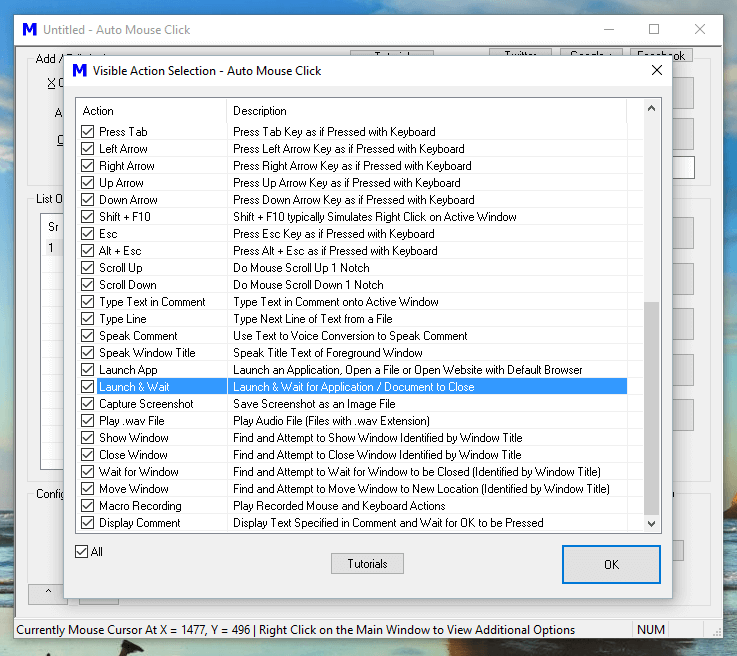 The Macro Recording Action allows you to Record and Playback Mouse and Keyboard Macro.
Play .wav File Actions allows you to add Audible Alert in the Script to inform you about Script Execution Status.
The Speak Comment provides Audible alert by speaking the Text specified in the Comment field.
The Speak Window Title Automatically Detects Application Window with Focus, Reads the Title of the Window and Speaks it using Text to Speech Conversion.
The Capture Screenshot Action captures Screenshot of your Computer Screen and stores it as a .png File.
The Display Comment Action can be used to Pause the Script Execution until the OK button on the Confirmation box is Dismissed.
Features to Assist you in Automating Repetitive Tasks on Windows
There are lots of other features in the Software which together make Windows Automation Really Easy and Quick. There are lots of Video Tutorials available for the Software and the Macro Editor provided is Mouse and Keyboard friendly. Just Right Click on the Macro Editor to explore what all features are offered by this Software or Read on to know more.
Macro Editor Supports Changing Text and Background Color of Individual Macro Actions in the Script.
You can Double Click on any of the Macro Script Action to edit it's hidden parameters.
Editing Repeat Count, Fixed or Random Time Delay for any Macro Script Action can be done from the Context Menu.
Inbuilt Time Converter to convert from Hours, Minutes and Seconds to Milliseconds and vice-versa.
The Profile Manager allows you to group Multiple Macro Scripts providing easy Editing and Launching of Macro Scripts in that particular group.
All Keyboard Shortcuts for the Macro Script are stored in the Data File allowing you to reuse System Wide Keyboard Shortcuts for Multiple Scripts.
---
Free and Paid Support Available
Free Customer Support is available for Registered Users for upto 1 year. You can Hire our Software Developers to Design and Implement any new feature or Design a Macro Script for you. Yes we do understand Windows and we have tried our best to provide best possible features in this Free to try and Affordable Windows Automation Software.